The centre pod
is (
see exploded view
) available in standard 10', 15' and 20' lengths and as a full length centre pod.
The centre pod would extend about 27" past the rear deck ( see photo )
The centre pod adds buoyancy at the rear of the boat and offsets the weight of the heavier 4 stroke outboard and fuel.

Because the outboard is mounted at the rear of the centre pod, the prop always gets a good bite of the water and rarely cavitates.

The standard centre pod is rated up to 150 hp, optional up to 175 hp, 200 hp, and 250 hp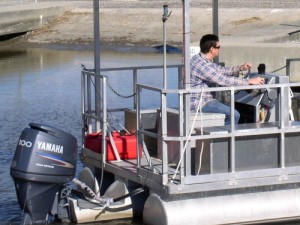 Pontoon Kit with Center Pod
---
Basic Boat Kit Description
Each standard 8' Pontoon Boat Kit contains the following parts
2 aluminum pontoons, each with side and bottom keels, front water deflectors, full length risers, sealed chambers at 5 ft. lengths or less and a rear mounting transducer bracket.
Aluminum extruded hat bar cross-members x width of boat. Additional bars for reinforcement at motor mount and bow.
4 aluminum corners.
10 ft. Centre Pod.
Aluminum edging for complete perimeter.
Towing bar.
All necessary hardware.
Assembly booklet.
---
Pontoon Boat Kits are made to last
Our pontoons are made with type 5052 H32 aluminum, an aluminum / magnesium alloy most resistant to corrosion in fresh and sea water. The standard pontoon wall thickness is .125".
There are solid welded chambers every 5' and each pontoon has a full length under keel and side keel for added protection.